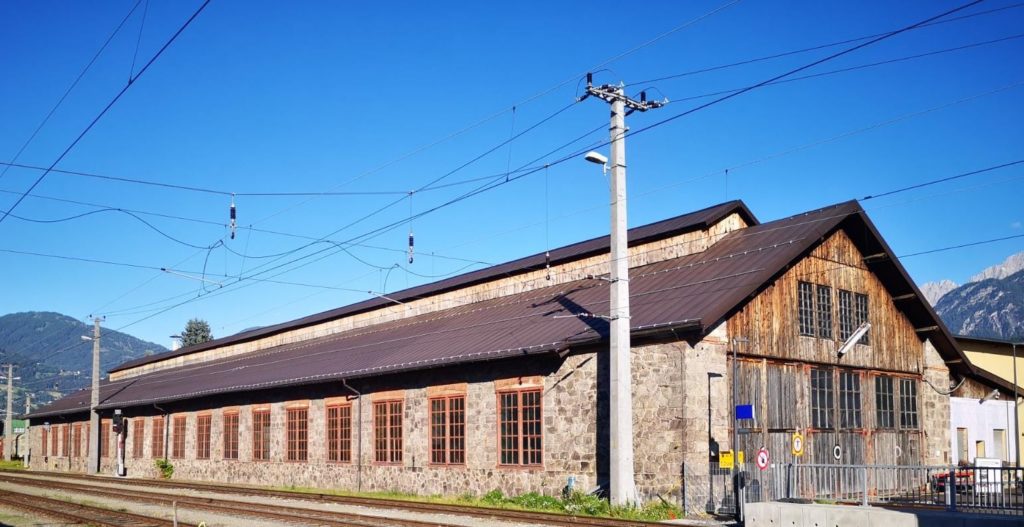 The historical importance of the railway for the Drava and Puster valleys prompted the city of Lienz to purchase the steam locomotive 52.3816 in 1980, which it gave to the newly founded Verein der Eisenbahnfreunde in Lienz (EBFL) as a permanent loan.
The association runs the museum in an honorary capacity and is particularly dedicated to 150 years of railway technology history.

The railway museum, which is unique in Tyrol, is housed in the former Südbahn Heizhaus (1871) of the k. k. priv. Südbahngesellschaft. The building has a huge hall with an impressive timbered roof truss and several smaller rooms on the south side.

The three-track, 97 m long depot, planned by architect Wilhelm von Flattich, is largely in its original condition and has been a listed building since 1999, as is a turntable, built in 1942. The steam locomotives 52.3816 and Sulm-B 1 as well as the four wagons of the Südbahn Express passenger train are recorded as technical cultural assets.

The historical significance of the building is reflected in the exhibition concept and so it is not surprising that the rooms themselves are to be understood as "exhibits" that tell the story of the original purpose.

1,800 m² of exhibition space house steam, electric and diesel locomotives, wagons, signalling equipment, technical equipment, historical photographs and plans, a comprehensive archive, and a library of railway literature.

The historic Südbahn Express passenger train occupies a special position in the association's and museum's activities. This consists of a lovingly restored ((Förderverein IG Tauernbahn)) class 1020.018 electric locomotive from 1940 and four Schlieren wagons from 1967-1975. 4 – 5 trips per year are offered.